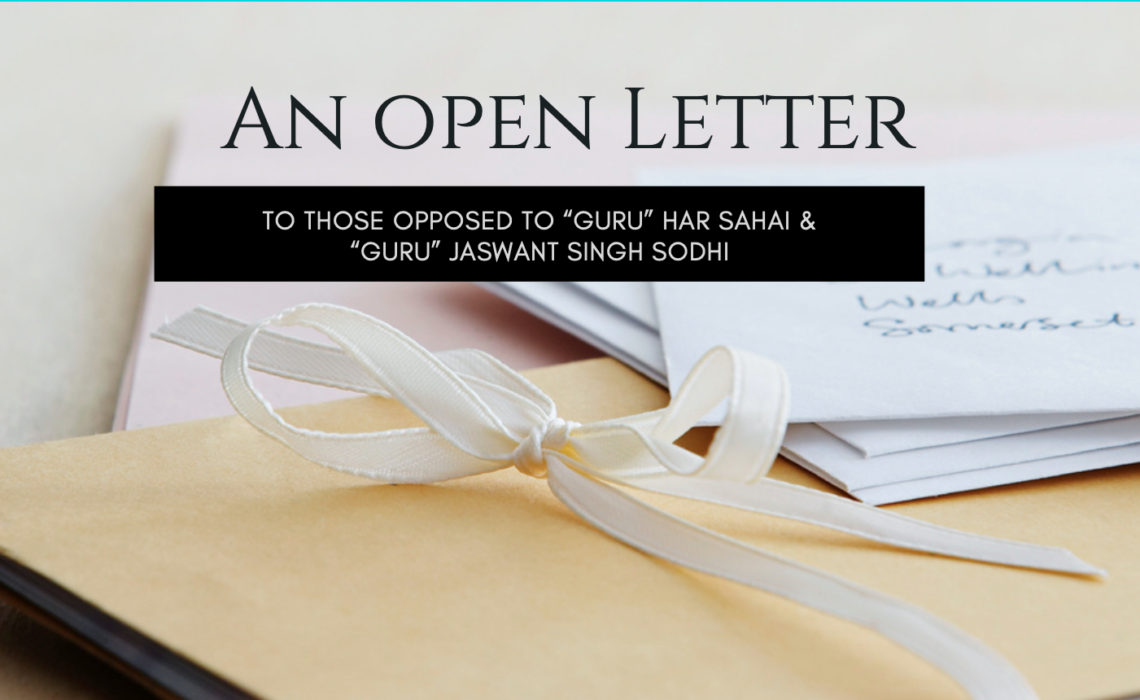 I still remember being embarrassed at the term 'Guru" being prefixed to my father's name. "Why couldn't he have a normal name like all the girls in the boarding school?", I would question myself confusingly. "Guru" sounded so self-conceited, awkward, and outlandish to me. It was difficult to come to terms with this anomaly. As I grew up I stumbled upon quite a few others who shared my disquiet, but for reasons entirely different- reasons related to irreverence and touching upon their religious boundaries.
A few days back I got tagged in a post [for fact-checking] concerning my paternal family- the Sodhis of "Guru Har Sahai", which the author of the Facebook post chose to refer to as "Har Sahai". He so reeked of despise for the word "Guru"! The Punjab Sikhism and Heritage enthusiast hand-picked quite a few adjectives from his dictionary of "Hatred" to insinuate disrespect for the descendants of Prithi Chand Ji and my Great Grandfather Guru Jaswant Singh Sodhi. Okay, I'm not picking up my guards against the libelous phrases used by him yet. A controversy surrounding Prithi Chand Ji does stare in my face, by those who have put forward their versions of history so far. I am not prepared with my research to defend my ancestor- quite not yet but will come up with an objective view on that, soon. I leave Prithi Chand Ji out of this letter for now.
A relation I've never met, a U.S. based Dr. Butalia, former Secretary-General of an illustrious Sikh body, and an Admin/Moderator of a Facebook group with over 37,000 members wrote a slanderous note at the end of his post, as follows:
Caution: Jawant Singh Sodhi referred to himself as guru and was referred to as "Guru Jaswant Singh Sodhi" and is still referred to as "Guru Sahib". This is highly objectionable for Sikhs, including me.
Take a break! With all due respect for your profound sentiments for your maternal great grandfather, aren't' you, but just getting a bit ahead of yourself here? Let me enlighten you with some research-based facts:
One, Guru Jaswant Singh was not a self-proclaimed 'Guru'. The title 'Guru went along generations in the family from the time of Guru Ram Das Ji to the 17th direct descendent today.
Two, who are you cautioning against- the late Guru Jaswant Singh Sodhi, who was the 14th in direct descent from the celebrated 4th Sikh Guru i.e. Guru Ram Das? A man so revered, held in great esteem, and educated at the Atichens Chiefs College? Guru Jaswant Singh Sodhi, [please read "Guru" as underlined in bold] was married to the daughter of Late Sir Baba Khem Singh Bedi [K.C.I.E], who was the Direct Descendant of Guru Nanak Dev Ji, the 1st Sikh Guru and the founder of the Sikh religion? Your maternal great grandfather, Mr. Buthalia, though drew in faith from across India, also remained as the active member of the Gurudwara Prabhandak Committee of the S.G.P.C. He exhibited immense religious tolerance and kept his low-profiled religious identity separate from his political life as a Member of the Legislative Assembly. In all seriousness, why would you want to caution readers against a man who promoted Sikhism and Sikh heritage by building Gurudwaras in Faridabad, Rampur, and different cities in Punjab?
Or maybe you want to seed malice against the erstwhile custodian of the holy relics of Guru Nanak Dev Ji- a Pothi [sacred book] handwritten by Guru Nanak Dev Ji, the Mala [a neck-string of 108 Rudraksha beads], and a Padam Sahib [a precious stone showing Guru Nanak Dev Ji's imprint]. Now, whoever taught you to call a stone a 'shell'! Sorry, for the dig, probably it is a bit of my grandmother's blood in me talking.
A shrunken sect of Pothimala followers, Sikh Scholars, and Researchers still have great veneration for the late Guru Jaswant Singh Sodhi whose soul was panged with pain at the theft of the Pothi and Mala. He passed away soon after the immeasurable loss, just before the annual Mela in which devotees from as far as Kabul came down to India for the Darshan of the holy relics, that were lost forever, in perhaps what could have been a planned robbery.
As I responded to your deleted/hidden post, "For your intolerance for the "Guru" prefix, please try to erase the inscriptions on a 300- year old Pothi Mala building where the word "Guru" runs across the panels and canvases. Or make a representation to the government of India to revise and revoke the term Guru from Guruharsahai from the Punjab District Gazetteer, 1983 to acknowledge your spirited objection to the accepted law, faith, and history of the family.
Mr. Butalia, the objection by a section of the Sikh community is understandable for those coming from a place of darkness about the decent and the existence of the holy relics until about two generations ago. But how do you propose to justify your repugnance to Guru Jaswant Singh being called a 'Guru"? Was he claiming a reincarnation of any of the revered Sikh Gurus? Was he claiming sainthood beyond the realms of a mortal being? Does the term "Guru" -a spiritual teacher/leader-mean to question the sacrilege of the apotheosized Sikh Gurus, to you?
The protest thundered by you in your overwhelming, lopsided and fact-ridden post was couched in the strongest terms, accusing Guru Jaswant Singh of being a sham Guru who had set up a "fake shop" [a term coined by you, not me] for duping the Sikhs or the followers of Pothimala, who traveled barefooted to hold a momentary glimpse of the relics.
With due respect for your little understanding, research, and sacrilege for Guru Jaswant Singh Sodhi Ji and the village Guru Har Sahai named after Guru Jiwan Mal's [the 7th Direct Descendent of Guru Ram Das Ji] son Har Sahai, I hope, better sense prevails upon you, someday.