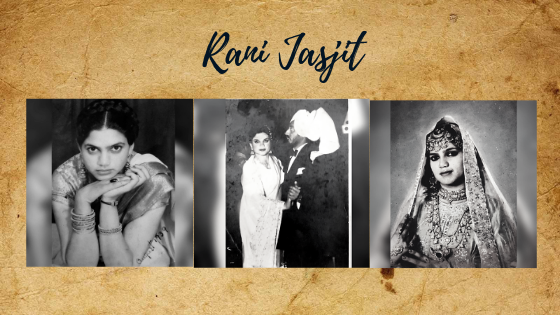 Rani Jasjit" was the name inscribed at the bottom of the ostentatiously framed picture, the prefix "Rani" appearing more like a consolation prize to the lost glory of once upon a time empire. Yet, she had the poise of a female sovereign. What stood out more than her wardrobe and ornaments was the queenly posture and confidence as though she had never known failure, defeat or need. Someone, who was born to make the female race in her circle of affluence feel like lesser mortals.
She looked delightfully elegant, unmistakably blue-blooded, fearless and a bit snobbish. Stunning she was, radiant in the rubies-studded Saree intertwined with gold threads and tissue fabric. Her photographs radiated a charm alluring and irresistible to both genders. Men admired her while the women probably felt plain and insignificant as she walked into a cocktail party with her confident gait and fashionable, trend-setting attire.
Born in the family of grandfather Baba Khem Singh Bedi- the fourteenth direct descendent of Guru Nanak Dev [the founder of the Sikh faith], she was a multi-talented woman, English Honours from the Queen Mary's College in Lahore [now in Pakistan], daughter of the most well-dressed man of the prestigious Bedi clan- Tikka Sant Singh Bedi; and someone just too modern for her time.
At the age of twenty, in 1945 she was married to Guru Atamjit Singh Sodhi alias Tikka Sahib the fifteenth direct descendent of Guru Ram Dass [the fourth of the ten Gurus of Sikhism] and had three sons, with me as the eldest daughter of her eldest son. She came from a family where girls were groomed to marry into princely estates- to men of fine mannerism, exquisite leisure pursuits and with schooling meant for educating only the sons of the elite or princely families of the province, to become able rulers of their respective states. My grandfather seemed to have met the requisites on just two counts- the inheritance of opulence and religious affluence.
With the family estate placed under the Court of Wards [a law enacted by the East India Company to protect heirs and their estates where deemed to be incapable of acting independently], letters to the British Estate Managers were drafted by her in flawless English for allowance to meet the expenses incurred by the family, affixing my grandfather's almost juvenile signatures at the end. A picture of them together at the Nainital Boat Club had him seated next to her as a disinterested, un-participative and a seemingly subservient onlooker, while she signed the 'Matleos' [one of the nine Yacht owners] members' charter.