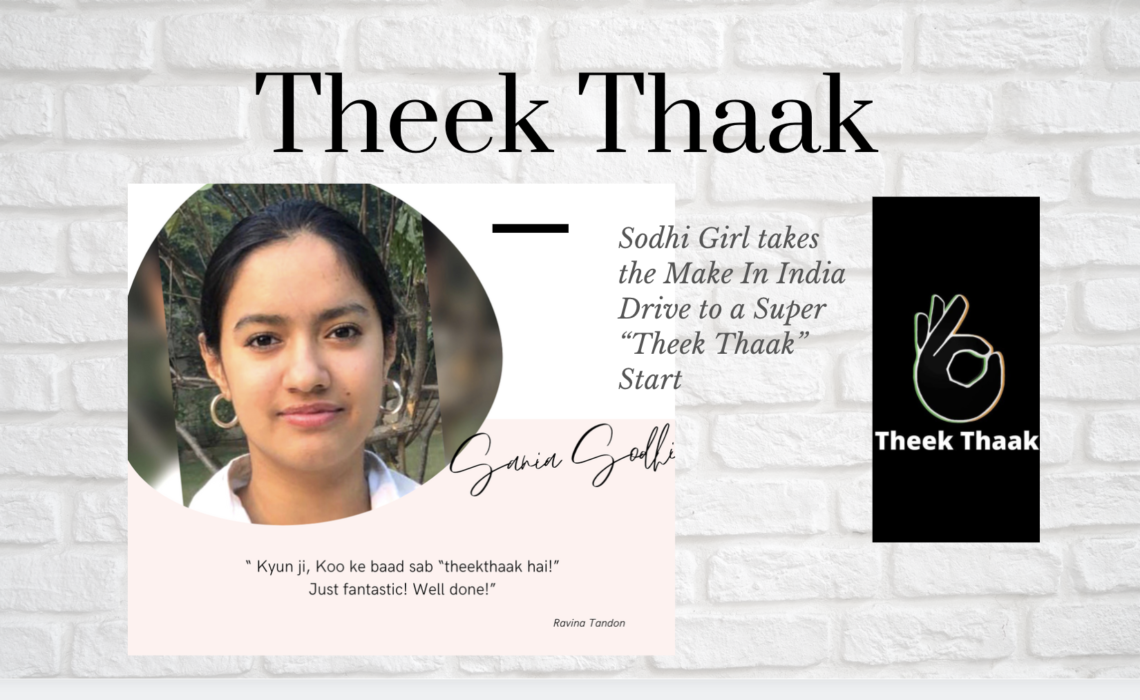 Whatever women do, they must do twice as well as men to be thought half as good. Luckily this is not difficult!
Charlotte Whitton
I'm writing this blog to introduce to my relatives and friends a young Sodhi Girl, Saina, who tucks away in her academic and very creative world. I first met Sania at a party in New Delhi- bright and confident, with her head up in the air, her thick ponytail bouncing as she walked on what seemed like a red-carpet walk for her, a well-groomed girl in an English cape-coat and a Scottish check skirt. She is my cousin, thirty years younger than me, thanks to her parents for marrying so late.
A Boarding school education was chosen for her as it is for all the young boys and girls in the family. She moved from Sanawar to Millfield School in the UK. Born in the illustrious family of the Sodhis of Anandpur Sahib, Saina is the daughter of Gurpreet Singh Sodhi [fondly known as Gogi Sodhi] and has been born and brought up in Hauz Khas, New Delhi.
The spark in this young tech-savvy enthusiast and an entrepreneur-to-be perhaps traveled down her genes from her grandmother Biba Mohinder Kaur, who was not just a relative but a very close friend of my grandmother Rani Jasjeet Kaur of the Guruharsahai Sodhis. Both of them were bold, beautiful, and extremely gifted women, and way too modern for their times. They were also the descendants of the decorated Sir Baba Khem Singh Bedi, the 14th spiritual head of the Sikhs by direct descent from the founder of the Sikh faith, Guru Nanak Dev Ji. Baba Khem Singh Bedi was also nominated to the Imperial Legislative Council in 1893 and became a Knight Commander of the Indian Empire in 1898.
Ten years later, I see Saina again, not face-to-face but in the flashing headlines. She rocked the social media world and has the elitist newspapers and media houses like Times Now, India Times, Indian Express, and News 18 staring in disbelief at the incredible achievement of a 17-year old UK school girl take her elemental understanding of coding to the next level in app development in India. Celebrity endorsements for the young star storm the digital space with proud tweets from icons such as Raveena Tandon, " Kyun ji, Koo ke baad sab "theekthaak hai!" Just fantastic! Well done!"
Saina, today is a founder of a company called " Saina Corporation" with the launch of her video-sharing app Theek Thaak. Though a minor, she has broken the glass ceiling and has ambitious plans to popularize Theek Thak- a video-uploading app loaded with catchy features like video-editing tools, live-streaming, reactions, social-sharing, sounds, Theekcode scanner, geolocation, among many others. Set for release in March this year, the app will also be featuring a 'Theekcode' scanner and "theekmojis". The app is currently available in eight vernacular languages. "Saina wanted to create an application that helped amplify Indian voices globally." reported the Times Now News.
The Make-In-India initiative kicks momentum with youngsters likes Saina using technology to create a home-based app yet not forgetting to retain the Indian flavor with the tricolor in the app logo.
Saina is in Year 13 [12th grade] at UK's Millfield School. This STEM student now has plans to further her education at a top-notch Ivy League school in the US.
A fine education has been the privilege of all the Sodhi men and women in the family. However, very few have risen for their schools to claim their name. Sania, we see as one, our country will be proud to claim!
Please download the App Theek Thaak
For any further information please feel free to email Saina Sodhi at SODHISA@millfieldschool.com
or Gogi Sodhi on gogi_sodhi@yahoo.com.