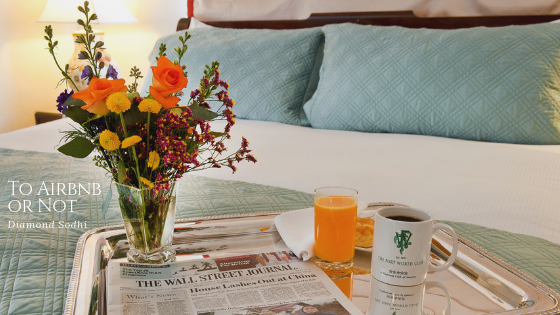 We got it all about the "Bed & Breakfast" concept, a well-acquainted fad break away from the traditional hotel stays. But something beyond the B&B is the favorite vacation stays these days- Airbnb. What is this Airbnb thing anyway and what's got this revolutionary lodging experience over 150 million users worldwide?!
Airbnb derived its name from the California based famous Bed & Breakfast and is the shortened version of its original name, AirBedandBreakfast.com. The Airbnb makes it easy for millions of hosts around the world to earn money by renting out their homes and becoming "hospitality entrepreneurs."
So, my words of wisdom [Haha…. okay, self-checking on my conceitedness!] come from my recent trip to Dalhousie where we chose to check out the Airbnb rage. A bunch of nice things to say, but a cautioning against the snare of the in-vouge homestays. If you are a hotel snob or a business traveler, Airbnb may not quite be your thing. This lodging experience is rather informal, relaxed, low on serviceability, is not technology-driven and does not offer the conveniences of a conventional hotel.
But our quest in that quaint town with deodar hills and the fading English and Victorian charm was purely recreational. With the family checked-in, the pine cottage that made way through the sweetest smell of flowers mingled in with the soft mist of the fresh mountain air and the sound of the night crickets, my experience was divine. The cottage looked as new as never been used, with wooden staircase and ceilings, and light shade walls with minimal furnishings for that tastefully done up Italian book café look accentuating simplicity and class. A place perfect for sinking in after a day-long mountain adventure, to read a book with your feet up on the balcony rail or sink into the crisp white linen of the attic bedroom, balming the senses with the clean aroma of fresh-cut wood.
Based on my very own experience, I'd recommend the Airbnb homestays for reasons such as the follows:
Accommodations with souls
There's a homely touch to it
Ideal for vacations or uphill travel
Home-cooked meals
Atmosphere not stiff
Personalized services
A touch of local handicrafts in the rooms
Don't feel boxed inside a luxury room
Connect with the locals for personalized advice instead of scripted hospitality courtesy
One can do own barbecue and bonfire
Many lodgings are pet-friendly
They don't put on the line so much you don't need- gym, swimming pool, etc.
Cottages with 2-4 bedrooms, a living and dining area keep the entire family or group connected.
But just before I sound over-generous with my recommendation, I have to think to myself if I'd choose a homestay when traveling alone. And I surprise myself with a big 'No'. Safety and standardized luxury services is always a priority for me when choosing my accommodation. A mandatory filter on my hotel search is a 'five stars' not because I'm a classic stiff-neck but because of the quality assurance the luxury hotels come with, and the straight fact that I do not want to land up with gawky strangers. So, here's the downside to the Airbnb stays:
Airbnb stays can be just as expensive as hotels.
The final tariff could have unlisted added fees.
The home-cooked meals could be as expensive as restaurant dining.
Not ideal for the needs of business travelers.
Last-minute cancellations can leave you in unforeseen jeopardy.
A limited choice of staple cuisine just in case you decide not to eat out.
Safety could be a concern for solo travelers, especially women.
Lack of amenities and professional Customer Service.
Airbnb offloads the risk of verifying a property onto their users.
Photos may not be a true representation of the property.
A large space of the property may not live up to its listing.
Security measures may not be up to the mark, and interface with strangers sharing a connected living space can seem like a discomforting intrusion.
No trained hospitality staff to deliver excellence in delightful guest experience.
The online ratings for Airbnb properties are usually for the hosts while the hotels are rated for the excellence of property and service standards.
Let me finish this by saying, do give Airbnb a try when you're in a mood for some laid-back time with friends or family. And for those uptight moments, business tours or when traveling solo, keep the Airbnb adventure in the limbo!