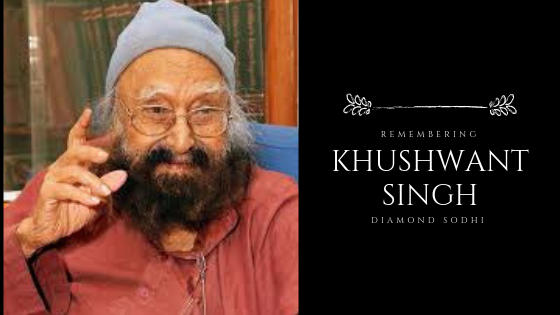 From the days of reading the bold and brazen 'This Above All' to meeting the legend in 1998, Khushwant Singh was the writer above all.
It was a whose's who studded dinner of the little town- with most politicians, bureaucrats and the noted families making it to the guest list. But I had to be there for this one man. There was so much euphoria over actually sharing a physical space with the writer-author-journalist who I grew up reading. Just before leaving for the place that evening, I called out a thin pile of papers-some five thousand words- from my electronic typewriter, just in case. That was hoping for a lot, I hastened to ground my fallacy.
The author had nestled around with invitees who thronged to him for an eager handshake and a picture perfect shot. He looked like an ordinary man, quite actually the way he was supposed to look from the pictures I had seen of him. And he looked bored, I identified.
It's been over twenty years, and I regret not remembering what we talked, but what I do not seem to have forgotten is that he was as candid in person as he was in his writings. To say the least he was forthright and unpretentious, though his confessing that he was indeed feeling bored that day, has little to do with this.
And there I was, in conversation with the iconic writer, a long uninterrupted tète-â-tète blurring everything around and keeping time at bay. The man of the day kept his focus square giving away no sign of impatience to take on more fans. And then was that conjuring moment, his sensing mind surprising me with a question I could've only imagined to be asked in my day-dreaming thoughts. "Have you brought something for me to read?"
How did he know, there was no insinuation- other than my stash of papers hiding in the silence and darkness of the car.
Turning the pages of my amateur script he said to me, "I'll be leaving for the guest house early and will have time to read these tonight. Once read, I will get back to you." It was elating to see him hold my writings in his hands. Even if he never read through those papers I would've still treasured him in my happy place. Days passed into weeks and weeks gave way to months. The soulful meet with the celebrated writer became a memory for keeps.
It must have been one of those late evenings when I got home from my university library in Colorado. There was a message from my mom on my voice mail- "There is a letter for you from Khushwant Singh." His words felt like a promise- "Once read, I will get back to you." When I returned to India, I took the letter in my hands- a yellow envelope with his Kasauli home address inscribed on it, and a fondly handwritten letter inside with words of appreciation and advice.
Remembering the celebrated writer on his death anniversary today, I'm mindful of not having come far in the literary world, but then, guess 'who' critiqued my first script ever!